Some of my businesses, and websites, and a couple other good ones...
Save An Animal non profit organization
---
Please help Save An Animal.
---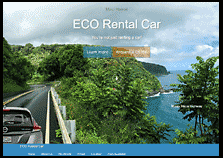 Animal friendly/ECO friendly Car rental on Maui
---
Vegan run earth friendly business : Unique Toilet Seat Lid Covers, made from repurposed material.
---
More information on using TOFU
---
Living Green on Maui
---
The original ECO rental Car
---
Awesome spice racks (My brother created them!) vw
---
---
Follow us on Twitter to hear when new items are added
---
---
"The greatness of a nation and its moral progress can be judged by the way its animals are treated. "
Gandhi
" If you have men who will exclude any of God's creatures from the shelter of compassion and pity, you will have men who will deal likewise with their fellow men. "
Hippocrates (?460 BC - ?377 BC)
---
Want to help keep Veganwolf up and running? 100% of Donations help maintain this site, and go only for promoting a vegan way of life.