Vegan Meat
"Homemade Vegan,Cholesterol Free, Strict vegetarian MEATLESS Meat recipes and information. "
From: Vegan Wolf
MEATLESS Meat information
You can buy some really impressive "fake" meats or analogs at the stores. If you havent checked them out lately, go do it! I can't keep up with all the new wonderful vegan products out there!
Sausages, ribs, burgers, turkey, meat balls, etc...
Truly amazing meat like items!
The only down side is they can be a bit pricey. (But then again, so is "real" meat...) so if you can afford it then you are set.
There are also some really incredible recipes out there that are just as good, and often even better than some of the packaged meatless meat.
Below you'll find both store bought meatless meats, that are really close to the real thing, and recipes for meatless meats that I love the most, and believe they are close to perfect.
If you find a recipe you think is better, please let me know. I want to have the best recipes ever listed on Veganwolf.
There are several terrific cooks out there, coming up with new recipes, all the time, and I havent tried them all!
All meaty recipes are fabulous as is but can be used as different meats, by using different sauces, or slicing and adding in place of just about any meat, in pretty much any recipe!
Did you know...
A lot of meatless meats are based on Gluten, which is the protein in many grains.
Therefore, most are a great source of protein!
Cooking gluten different ways results in different textures.
Also the more gluten is handled/kneaded results in a chewier textures
Pea protein too, is a major meatless meat source, and mushrooms, tvp, and tofu of course!
So if you are looking for a substitution/replacement for a certain type of meat, what kind of chew do you want? Steak like? Rib like? Burger like? Moist or dry? And go from there...
The easist (and cheapest) way to substitute a meat protein in a dish, is to use tofu! You can crumble it, use in place of burger, or fry it, bake it, etc.. Tofu has very little flavor and will take on whatever flavor you want it to, with your sauce. They even make flavored ready to eat tofu now with flavors such as smoked or Mexican that make it extra easy to sub.
For more meaty results, freeze then thaw the tofu, squeezing out the liquid before you crumble it into the dish.
If you crumble tofu and fry it it is very close to burger crumbles!
If you have an air frier, take frozen thawed tofu, squeeze it good, and rip into bite size pieces. 350, 10 minutes, flipping half way through... Great for in spaghetti sauce or similar!
Check out TOFUTIPS for more on tofu.
Tofutips.com
But with a little searching, or a little time in the kitchen you can have something much better than anything "real"
Meat Substitutes
---
Beef, chicken pork, etc.... each have many analogs out there. If you are adding it to a dish that has a lot of flavor already, like a spaghetti sauce, or casserole, you can use an un-flavored or mild alternative that resembles the meat you normally use, having the size and texture of that item.
Most meaty substitutes are made out of soy, vegetable proteins, and/or wheat gluten! They are amazing!
Look for Seitan or Wheat Meat in the refrigerated section, or make your own! You can fool a lot of people by using seitan in place of meat when you use it with a sauce. Easy to do and much less expensive then any meat or meat substitute!
An old stand by is TVP, which stands for texturized vegetable protein.
TVP comes in a dry crumble form and usually very mild or un flavored. TVP needs to be rehydrated so works really well in soups or anything with a lot of liquid, or rehydrated and used as in tacos...
Another meaty option is something called Tempeh, which is usually in a patty or cake form. It is made from fermanted soybeans and is high in protein. It has a nutty flavor and texture and been a staple food in Indonesia for a couple thousand years. Because of the texture, tempeh isnt the best substitution if you want a more realistic meaty texture
There are many many alternative Burger products on the market. Check out the freezer section of most super markets or for even more go to a health food store! Some will remind you of a meat burger while others will be a totally new taste experience, with lots of spices, mushrooms, peppers... etc... Very Gourmet!
The Beyond Beef Burgers, and Impossible burgers are the most amazing burgers evers!
If you havent tried them yet, you must! Although they might be a little too close to the real thing for some people!
Meat eaters will not be able to tell them apart from real meat, unless side by side.
My only issue with them is the packaging and the price.
The best dry burger substitute I found is called Soylent Green....
(Haha, just seeing if you are paying attention, or aware of the movie...)
Actually, my favorite dry is called Harvest Direct Soy burgers. Now from Dixie Diner. It comes in a dry mix that makes great burgers, loafs, meatballs, tacos etc.... and there is no refrigeration needed for the unopened pack! SOLCUISINE offers this in dry bulk,https://dixiediner.com/products/harvest-direct-soy-mixes, so if you are in the restaurant business this is a great item!
Look for Beyond Beef and Gardein too. SO many to choose from!in the refridgerated section. They have ready to go burger crumbles and meatballs that are wonderful
If you want to actually make your own burger that is like a fast food burger, check out this recipe:Vegan Burgers like McD or Burger K.
My Go to broth substitute is from Frontier, their beefy broth powder has a mild good flavor so makes a great substitution for any recipe that calls for any flavor broth. Ingredients are primarily salt, garlic powder, onion powder, with a little sugar and spices, so you can even make up your own if you want.
Bacon is almost pure fat with a smoke flavor. That smoky flavor is easy to copy. Liquid smoke is just that; liquid smoke. Most super markets carry these small bottles, usually near the BBQ sauces. A few drops in anything calling for bacon will help retain that flavor, and added oil to expand the flavor more. There are also many smoky products that imitate the texture and flavor.... Bacos have been around for many, many years and a staple at salad bars everywhere! Also Bac'uns by Frontier, and Bac'n by McCormick... There are also some good ready made products too,
But my favorite and amazingly close to realistic bacon is home made, out of tofu, and is super easy...Home made Vegan Bacon
---
One of the most delicious vegan meat like product out there is Primal strips... http://www.primalspiritfoods.com/ Vegan Jerky that is incredible! Try the Hickory smoke.... I also love Stonewall's Jerquee Vegetarian Jerkies, Teriyaki Beef for eating right out of the package. http://soybean.com/
A good steak strip is from Morningstar Farms. It's found in the freezer section of most grocery stores. Perfect for stirfrys or fajitas.
Stonewalls http://soybean.com/ is a great place for many meatless meats. Besides the jerkys, which are really great in recipes too, they have a Heartline Meatless Meat, which also works great rehydrated for any recipe. The Jerquee has more flavor and more chew, and is better than the Heartline, but it is also more expensive
For cooking, I like the original mild, just re-hydrate in boiling water for a few minutes and it is just like steak! Add some A1 steak sauce and your set! They also have spicy flavors if you like it hot! Use this jerkie for all cooking, when you want the meaty, chunky texture, even for pork chops. It is found to be too meaty for some vegans and vegetarians. You can also order them in small pieces fines which are fabulous for anything where smaller meat is used, such as a roast beef or pulled pork sandwich...
Another truly remarkable meat substitute is Veggie Ribs Mix ! They are incredible! You have to try these! They are actually best the next day so make them one day, serve them the next.... You won't believe how good they are! Just add a couple things.. like peanut butter (yep!) and your favorite BBQ sauce... bake and WOW!
or Make your own from scratch!
Home made Amazing Vegan bbq ribs
---
As for hotdogs, there are lots of vegi hotdogs on the market too, so a lot of flavors to try. For regular kid type wieners I like the canned Big Franks by Loma Linda.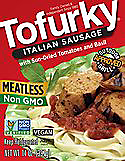 For a more flavorful one I like tofurky brand Kielbasa, in the refrigerated section, or Italian Sausage for pasta salads and similar.
---
The best premade turkey is from Tofurky, in the freezer section. They also have a wonderful turkey Tofurky Hickory Smoked Deli slices for sandwiches, or sliced in casseroles such as turkey tetrozini, that no one can tell it isnt real turkey...
Even my cats love it.
There are a few really great pre made chicken like products.
Beyond Meat is a company to keep watching! http://beyondmeat.com/ They have a Beyond Chicken strip that is perfect!
BOCA has an excellent vegan Chicken Burger. BOCA Original Chik'n Patty , which could fool any Mcchicken burger fan
Anything made by Gardein is wonderful too http://gardein.com/
Costco sells the chicken nuggets in my store, which is great! The only issue I had, was Costco had them for a sample, one day, and the person displaying them did not bake them long enough, so they were NOT good. A bad thing when you want to promote a vegan item...
Also look for anything by VegeUSA, or Vegetarian plus. A company that offers items like vegan shrimp, fish, Citrus ribs, Pepper steak, chicken drumstix... a vegan chicken, and a ham roll that are out of this world! These are foods that everybody will love, and vegans/vegetarians wonder if they really are meatless meat!
There are also other things one can do to imitate a meat in a recipe. With Seitan alone you can create any shape, any texture, basically any meat, beef, pork chicken, etc... !
If you want a fish like taste, add a little dried seaweed like Nori... a mushroom can have the same texture as an oyster... and even though you probably never heard of it, canned Jackfruit has the same exact texture as fish!
With imagination one can do anything...
I strongly encourage you to go to the largest veg healthfood store you can find and check out what all is available .... ham, pepperoni, Canadian bacon, etc.... and explore all the recipes out there. Being vegan today is SO easy!!
---
Scroll further for more meatlike recipes
---
Follow us on Twitter to hear when new items are added
---
---
"Every man who has ever been earnest to preserve his higher or poetic faculties in the best condition, has been particularly inclined to abstain from animal food. "
Henry David Thoreau
Best Recipes for Amazing Meatless Meats
Homemade Vegan Burgers recipe!
If you want a McD/B King type of a burger, this is it!
Homemade Vegan BBQ Ribs recipe Wow!! A great firmer seitan, that holds it shape very, very well...
Hold the bbq sauce, slice thin and serve with horse radish and the meat becomes pork chops, or another sauce and another meat...
Homemade Vegan Stuffed Turkey Recipe
Incredible! A baked seitan. Slice and use for any typical turkey, chickeny meat recipe, awesome on sandwiches.
Homemade Vegan Sausages Recipe
Wonderful! A great "ground" burger/sausage meat seitan. Just adjust spices to your liking for sausages, meat balls, burgers...
Basic seitan Wheat meat recipe.
Another great, easy, basic wheat meat for any meat recipe, sliced like steak or Grind up for use as ground "beef" meat
Homemade Vegan Pepperoni recipe
Perfect for pizza, or in a salad...
Homemade Easy Vegan Bacon recipe
Yep! Super simple and super good! On a BLT or on the side with a scramble!
---
---
---
Hey! NO ADs!!!
Aren't you sick of seeing ads everywhere!
If you appreciate that, and want to help keep Veganwolf up and running, please consider donating. 100% of Donations help maintain this site, and go only for promoting a vegan way of life.
Have a great day!